Sandstrom &

Associates

We work with district approved companies to establish secure retirement solutions for public employees
Assisting public employees in the following states
California
Washington
North Carolina
Florida
Georgia
Arizona
New Mexico
San Bernardino USD
San Bernardino, California
Garden Grove USD
Garden Grove, California
San Luis Obisbo School District
San Luis Obisbo, California
Los Angeles USD
Los Angeles, CA
Riverside USD
Riverside, CA
Bay City ISD
Bay City, TX
Bay Village Local School District
Bay Village, OH
Berkeley Unified
Berkeley, CA
Bradford County School District
Bradford County, FL
Clay County SD
Clay County, FL
Collier County Public Schools
Collier County, FL
East Side Union HSD
East Side, CA
Fairfield-Suisun USD
Fairfield-Suisun, CA
Hardee District Schools
Hardee, FL
Martin County School District
Martin County, FL
Mason City Schools
Mason City, OH
Massillon City Schools
Massillon City, OH
Milburn Public Schools
Milburn, OK
Millwood Public Schools
Millwood, OK
Moffett School District
Moffett, OK
Moore Public Schools
Moore, OK
Palm Beach County SD
Palm Beach County, FL
Palo Verde Unified
Palo Verde, CA
Washoe County School District
Washoe County, NV
San Bernardino USD
San Bernardino, California
Garden Grove USD
Garden Grove, California
San Luis Obisbo School District
San Luis Obisbo, California
Los Angeles USD
Los Angeles, CA
Riverside USD
Riverside, CA
Bay City ISD
Bay City, TX
Bay Village Local School District
Bay Village, OH
Berkeley Unified
Berkeley, CA
Bradford County School District
Bradford County, FL
Clay County SD
Clay County, FL
Collier County Public Schools
Collier County, FL
East Side Union HSD
East Side, CA
Fairfield-Suisun USD
Fairfield-Suisun, CA
Hardee District Schools
Hardee, FL
Martin County School District
Martin County, FL
Mason City Schools
Mason City, OH
Massillon City Schools
Massillon City, OH
Milburn Public Schools
Milburn, OK
Millwood Public Schools
Millwood, OK
Moffett School District
Moffett, OK
Moore Public Schools
Moore, OK
Palm Beach County SD
Palm Beach County, FL
Palo Verde Unified
Palo Verde, CA
Washoe County School District
Washoe County, NV
Congratulations Priscilla for winning National Life Group's 2022 Life Changer of the Year award!
S&A representative Edward Sandstrom presented Ms. Grijalva the award after she was selected out of more than 850 nominations across the country to receive one of five top awards and a $5,000 cash prize.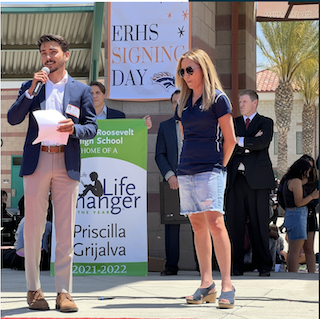 If you know a school employee who makes a difference in the lives of students by exemplifying excellence, positive influence and leadership nominate them for the 2023 award by clicking 'Nominate' below!